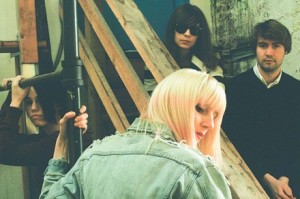 Headed to Calgary to take in the rad sounds and sights of the 2013 Sled Island Music and Arts Festival? If you're looking for help navigating the jam-packed 4 day schedule, search no further! CiTR recommends heading to Broken City on Thursday June 20th for a night of wicked punk rock featuring Open Relationship, Grown-Ups, LBJs, and White Lung, one of Vancouver's own!

Formed in Vancouver in 2006, White Lung has gained attention for their furiously fast-paced riffs, hellish vocals and overall DIY punk-rock style. Their sophomore album "Sorry" released May 2012 was met with critical acclaim, and began an extensive tour of Canada, the US, Europe and the UK. Along with the thrashy, garage punk styles of the LBJs, Grown-Ups and Open Relationship, White Lung are sure to be a killer kick off for your weekend at Sled Island.
Set times: LBJs at 10 PM, Grown-Ups at 11 PM, Open Relationship at 12 AM and White Lung at 1 AM.
Check out the full schedule and ticket information for Sled Island Music Festival.
Presented by CiTR 101.9FM, Discorder Magazine and Sled Island Music and Arts Festival.