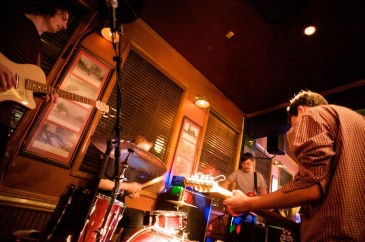 The Uma Uma Truth List
The procession of percussive instruments into the Princeton Pub might have been the first warning the grizzled pool sharks had as to the night's planned festivities. The regulars' backs were straightened and their road-worn leather jackets ruffled up early on over the intrusion, but none of the pub's patrons could have expected the onslaught of plaid-decked ruffians that would soon engulf the venue. The battlefield was primed for neighbourhood sweethearts Peace to promote their new album, My Face.
The opening blow, however, was struck by Washington D.C. guy/girl combo Jubilee. Judging by their set, which highlighted pots-and-pans drumming and shouty, acoustic punk, it would be easy to dismiss the duo's unpolished, even untalented, nature. That said, I had a blast indulging in this nothing-but-fun outing. Albeit accompanied with banjos instead of synthesizers, the similarities to indietronica singer Mikhaela Maricich, aka the Blow, were palpable, especially in their cutesy vocals. Jubilee conjures serious wackiness, with frequent and abrupt volume, tempo, and instrument changes, and the somewhat offhandedness with which the pair introduced, played, and switched songs made it at times difficult to get into and enjoy the set properly. Jubilee didn't take itself too seriously, though, and listeners not taking themselves too seriously had a blast too.
Hard Feelings played a ridiculously intense forty-five minute set, apologizing only once to the steady stream of girls moving through their midst to try to get to the washroom, which was blocked from the floor by band gear and headbangers. Despite the minimal space allotted them for a stage, the gang obviously had a lot of fun playing a number of bass-driven, fuzz-laden garage rock tracks to the enthusiastic and spastic crowd: the quartet had bigger grins than most of the audience. Although complicated musicianship was definitely on-hand, this wasn't a set that anyone had to think too hard about to enjoy; as dirty as they come, Hard Feelings were easily the highlight of the night.
The venue got more than crowded by the time headliners Peace took to the stage, with on-lookers wedged shoulder-to-shoulder and armpit-to-armpit, buzzing with electric energy for the fuss to start. While looking like they'd come from the Beatles' Sgt. Pepper's album artwork, Peace bleed NYC ethos, blending Velvet Underground and Sonic Youth into something remarkable. Every element proved interesting and mesmerizing, be it "Lieutenant" Dan Geddes' sullen singing and crowd-gazing, or the infectiously positive way in which Peace's drummer Geoff Dembicki kept rock 'n' roll time. Songs were anchored with prominent bass lines, fittingly covering at times for an uncooperative guitar amp, and thickly wah-wah'd electric riffs that kept each track different and fresh. Unfortunately, Peace's retro sound brought out the worst in the packed-in crowd and it was difficult to stay on top of the music without evading beer bottles and flying fisticuffs. When a somewhat-forced encore led to broken glasses and roughed-up band members, the night ended on a regrettably sour note. Given a little more space and time to play, Peace could have had a lot more fun.