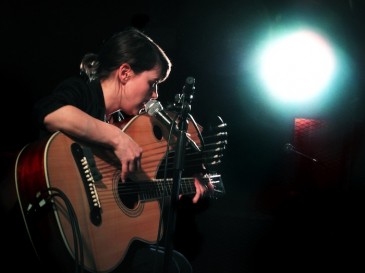 The Betrayer
After several years absence, singer-songwriter Kaki King finally made her way back to Vancouver as part of her North American "Traveling Freak Guitar Show" tour. While she does sing, it is her guitar playing that anchors her musical universe. King's current tour finds her reworking her back catalogue with a revolving arsenal of guitars, hence the "Freak Guitar" moniker. However, if you were expecting a string of tracks off her latest album Junior, you would have been disappointed.
Australian Megan Washington opened the show. Reminiscent of Missy Higgins, Washington cultivates a sweet, "don't mess with me" vibe. Part singer, part stand up comedian, Washington performed from behind a keyboard and provided explanations for each song. Following some anecdotes about life on the road, she finished with a soothing cover of Rufus Wainwright's "Want".
Soon after Washington's set, King sauntered onto the stage with a wide grin and proceeded to get everyone on the dance floor to sit down school assembly-style. For the vertically challenged, it was a dream come true. Not only did we all get to see the guitar goddess play, the seated set up gave the show a very intimate feel.
Opener "Bone Chaos in the Castle" found King employing some adept fret-tapping skills. She busily moved one hand over top of the neck of the guitar in a painful looking contortion while simultaneously slapping the frets and tapping the body of the guitar with the other. The results were amazing. Try this at home and see how long it takes before your fingers fall off.
There were only a couple songs where King sang, but that worked in her favour as a cold reared its head at various points during the set. Despite her strained vocal chords, the constant dialogue King had with the audience was not only entertaining, but, for the guitar trainspotters out there, it made the night an educative experience.
She played Michael Hedges' neo-classical "Because It's There" on one of the most visually intriguing guitars, the harp guitar. King described it as a "guitar-elephant hybrid," but it gave off a surprisingly gentle, multi-layered sound.
Another notable guitar which King used was the Weissenborn, a hollow-necked slide guitar that sounds like it could score both a spaghetti western and a luau.
Between the instrumentals "Doing the Wrong Thing," "Nails," "Neanderthal" and a few covers, including Andrew York's very tricky, yet very pretty "Andecy," King had the audience in the palm of her hand. Forgoing an encore due to time restrictions, King kept playing until curfew.
She finished with "Sunnyside", an achingly sweet ballad off Junior about lost love.
King is an absolute guitar prodigy, with her skills putting most musicians to shame. A mind-blowing show.