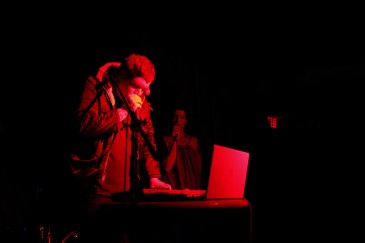 Unfortunately, I missed opening act Watermelon, but I heard their set, which featured some new grungy songs and a trimmer three-piece line-up, was their best yet.
As far as I could tell, Dirty Beaches, aka one-man band Alex Zhang Hungtai, was the high point of the show in terms of both attention and attendance. Throughout his performance, Hungtai seduced us with his badass Elvis demeanor, whether he was slicking his hair back with a comb, crashing his guitar into the cymbals of Watermelon's drum kit, which still sat on stage, or immersing himself into the respectfully ambivalent crowd. I could tell people were excited about Dirty Beaches, but they didn't feel the need to throw each other around excessively. I sometimes wonder about Vancouver's ambivalence to move and if it has something to do with shows taking place on a weekday.
In spite of performing solo, Hungtai successfully maintained a captivating energy. Utilizing a warm vintage amp, a condenser microphone and a twangy, reverberating guitar, his music, both retro and forward thinking, seems to come from an ambiguous era. Though he used a loop pedal, his short, repetitive samples weren't tedious, but meditative and engulfing.
Apparently, a lot of people left after Dirty Beaches to go to the competing Moon Duo show at the Media Club. People who stayed, however, sat hypnotized and chilled-out as Jeans Wilder, aka San Diego laptop musicians Andrew Caddick hovered above his glowing Macbook and miniKORG set up. His music may have been misunderstood. Underneath the hauntingly hypnogogic, juvenile, reverberating noise that filled the Waldorf laid passive structures of pop songs. At times, it sounded like reggaeton ran through a Gameboy, with some modulated and sanitized synthesizer over top. His set was complemented by watery visuals projected on the walls of the Waldorf, as well as some colourful lighting which added to the melancholic atmosphere of the show. I think the crowd felt more unified once the stand-up comedian came out of Jeans Wilder, as he bantered about expensive Canadian beer compared to America's "cheaper but weaker" product. I had fun heckling and I thought it was a good show.