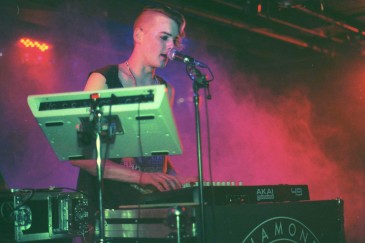 Its Not My Party
Excessive food consumption before this gig was a mistake on my part, but despite the 10 dumplings and a pork bun sitting like cement in my stomach, Diamond Rings, PS I Love You and Vincent Parker made for an epic night of grooving for the rest of the Biltmore crowd.
Vincent Parker started off the night, in his own words, "jiggy like a little baby ghost." Those of us who weren't on the packed dance floor were standing on the nearest chair/table/friend just to catch a glimpse of his erratic and, at times, epileptic, dance moves. Playing through his laptop, Parker mixed beats that were lucid and funky and his explosive energy engrossed the crowd, warming up our limbs for what the rest of the night had in store.
The Biltmore's cozy cabaret setting looked more like a summer music festival by the time PS I Love You took the stage, with girls sitting on top of their boyfriends shoulders and the rest of the crowd peacefully bopping to the Kingston, Ontario duo's lo-fi tunes. Although we occasionally got a look at him beneath his face-obscuring fringe, front-man Paul Saulnier had no interest in engaging with the crowd. But what he lacked in stage presence, he more than made up for with his incredible guitar skills. Blaming a short break in the set on his "tetris-exhausted" fingers, he eventually hit back with a series of face-melting, fret-frenzied guitar solos. Though PS I Love You's marriage of dance floor-friendly indie-rock with Saulnier's bizarre, exasperated, Cranberries-esque yelping can be a bit much, the band makes it work. The set ended with "Leftovers", a very cool collaboration with the belle of the ball, Diamond Rings.
Diamond Rings, aka John O'Regan, is adding some fierce androgyny to the electro-pop scene. His surprisingly masculine baritone is perplexing coming out of the mouth of a lip-glossed, eye-shadowed, skinny, flamboyant hipster from Toronto. Starting the night pumping his fist to the eerie drum beat and silky piano licks of "Play by Heart," O'Regan proved he's more than just make up and a trendy haircut. The anthemic, synth-loaded "On Our Own" got the crowd moving, while the sultry "You Oughta Know" showcased his own glamorous dance moves. The catchy crowd favourite "Wait & See" got us swaying via its brooding guitar and addictive chorus, meanwhile, the couples in the crowd got cozy during the tender electro-ballad, "It's Not My Party." On the latter, O'Regan showed a haunting side to his music with impassioned lyrics like: "We are grown up/and that is good we're told/but when the grownups just become plain old/left on the vine 'til the frostbite's cold".
Diamond Rings was a rainbow explosion of flair, with his lyrics, music and stage antics proving he's no gimmicky upstart but rather, very deserving of his quick success. And when he graces our city again, I'll be out on the dance floor.