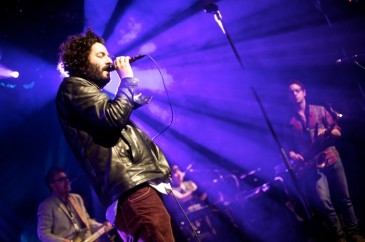 Downtown
There was baby making music being made at the Commodore the other night. The band responsible for the sex jams: Vancouver's very own Destroyer.
But starting out the night was Blackout Beach. Unfortunately, I missed most of their set.
Next up was, Philadelphia's the War on Drugs. Sad to say, but the sounds these guys make sit much better on your home stereo than in concert. It was difficult to make out Adam Granduciel's lyrics as he tried too hard to mimic the wheezy and whimsical voice of Bob Dylan. That being said, on record, Graduciel's voice is really quite incredible. Maybe it was the mix or maybe it was the musicians, but whatever the case, it was disappointing not to hear a clearer sound. Still, War on Drugs stuck to what they knew best and still performed well, twanging their guitars brilliantly on rock anthems like "Arms Like Boulders"
After a brief intermission, fans both young and young at heart (including an old professor of mine) gathered in front of the stage, watching as a voluminous-haired, effortlessly-cool Dan Bejar took the stage with only a microphone in hand and an extraordinary group of musicians behind him. Tonight's audience were given the gift of watching he and his Destroyer bandmates kick off their month-long North American tour in support of their new album Kaputt.
With his other hand nonchalantly placed in the pocket of his black leather jacket, Bejar crooned a number of Kaputt cuts, including the bass-driven "Song for America" and "Chinatown," which was enjoyable, despite not sounding as lush as its richly mixed and mastered studio counterpart. The show also featured a selection of popular songs from Destroyer's past, including a fantastic, jazz-flute intensive performance of "It's Gonna Take an Airplane" from 2004's Your Blues.
While Bejar is the life and soul of band, the rest of Destroyer's current configuration includes eight extremely talented individuals. Nicholas Bragg's guitar, for instance, screamed atop the lush sounds created by trumpeter JP Carter and saxophonist Joseph Shabason on "Blue Eyes," while keyboardist Larissa Loyva's harmonies throughout the night were delicate and paired well with Bejar's voice.
If you've listened to the new album, you've noticed that there are some major changes in Destroyer's style. Destroyer's earlier efforts involved the same copious amounts of cryptic poetry as their current album, but his generally guitar-driven back catalogue is rougher around the edges, similar to early Pavement. Adopting a softer sound than Bejar's previous rock exploits, dance vibes flowed around the room all night, especially on the gauzy title track "Kaputt".
Following an extensive chant for an encore, Destroyer reemerged and ended the night with a sensational performance of 10-minute epic "Bay of Pigs" which gave the audience one last chance to boogie and shake their babymakers as Bejar recited poetic verses from a lyric sheet. Just like their latest album, Destroyer's live show proves that their music is both sexy and spectacular.