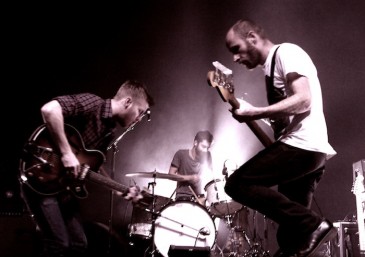 Out Of The Wilderness
There was a young woman standing outside of the Vogue following the Cold War Kids show who expressed disappointment in the band's set because they didn't "jam out" like she had expected. I'm not exactly sure what she meant as Cold War Kids don't strike me as a jam band, but perhaps I'm missing something here? Although judging from the rest of the crowd's reaction for the Long Beach band, it didn't even matter. From where I was standing, the band was on fire.
Chicago's A Lull opened the night with an impressively energetic set, holding the crowd at attention for the duration and clearly winning a lot of folks over, myself included. It's rare for me to be immediately taken by an opening act. Their drum-heavy, almost tribal sounding indie-rock was a great way to start the evening.
I've only recently started listening to Cold War Kids on the regular but I've been appreciating their output. What impresses me most is vocalist Nathan Willett, whose soaring vocals and narrative lyrics are both unique and ear catching. I was excited to see how this translated live. After giving their latest album, the excellent and well-polished Mine Is Yours, a good hearty listen, there was even more reason for excitement. I wasn't let down in the least. Well-loved songs came at a steady pace and the near-thousand in attendance lapped it right up. The newer material was embraced fully and offered confidently, but it was clear that the fans wanted older stuff, of which they got plenty. The band gave extra punch to classic tunes like "Hang Me Up To Dry" and "Saint John," which was a clear crowd favourite. If I were to have any qualms, however, it might have been with their lack of spontaneity. This is clearly a professional band and they have their rock star moves down to a T, but the set list, as good as it was, felt a little phoned in and perhaps a little too rehearsed. Regardless, this was definitely a show worth its weight. Even if the band didn't "jam out".