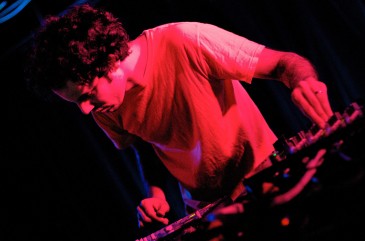 The idea of the live electronic musician is strange. By virtue of having total control over all of their sounds, they are wont to be meticulous, to tweak and fine-tune processes that lend themselves to being done gradually. And since they can create all kinds of tones and timbres, a performance can be a solitary endeavour, with no need for other musicians. That's why it was exciting to see an artist like Four Tet succeeding at live electronic sonic exploration.
Opener Nathan Fake brought a danceable yet interesting set of techno, with lots of big drums and strange rhythmic samples, touched with glitchy digital laptop noise. He also made use of some intricately sequenced synth lines—coupled at times with tribal drums, it was a unique sound.
Four Tet then took the stage, commanding a tabletop packed with computer screens and other technology and overflowing with cords. Kieran Hebden opened with a melodic haze of vocal samples, chopped so that no words were complete, but each fragment was connected to another. Samples of xylophones and bits of white noise crept in at the edges, until a watery four-on-the-floor kick drum galvanized the affair, and the vocals became more repetitive and insistent.
This set the tone for the evening in terms of sonics if not mood, which went from contemplative to celebratory without a pause. The common musical thread was an imaginative whirl—a layered, busy textural composite of percussion, acoustics, vocals, and synthesizers. Hebden was awesome to watch, too. With his big bulb of hair nodding, wide eyes fixed on the mass of techno-gear before him, knowing that this human, controlling those machines, was orchestrating all the sounds we were hearing.