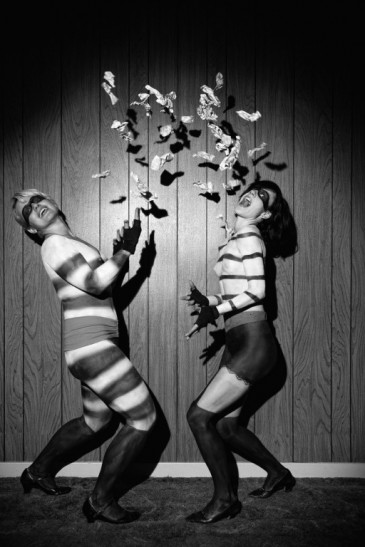 Fan Death is at a unique point in their career: one where it appears that they are just poised to make it big.
"I feel like the Fan Death thing is a crazy whirlwind adventure," said Marta Jaciubek-McKeever, half of the band over the phone. Vancouver bands that are getting buzz outside of the city happens infrequently enough that when it happens you take notice, and Fan Death's career is well on its way.
The duo, made up of Jaciubek-McKeever and Dandilion Wind Opaine, just got back from opening for Vampire Weekend in the UK leg of their tour.
"[Vampire Weekend] like dance music and … I think that's why they picked us," said Opaine. For the tour they brought along two extra people, Tony Dallas from Boogie Monster and the SSRIs to drum for them and a violinist named Marlene Ginader.
"[Vampire Weekend are] rocky and we wanted something a little more familiar for the audience," said Opaine.
Fan Death was a project of Opaine's and her Dandi Wind collaborator Szam Findlay who had written most of the songs before Jaciub-McKeever got involved.
"They [Opaine and Findlay] are kinda music geniuses," said Jaciub-McKeever. "They know like every song."
To this date only one of the songs on their forthcoming May album Womb of Dreams is written by Jaciub-McKeever. The song "Side by Side" is a ballad originally performed by Jaciub-McKeever's other band e.s.l. but reworked as a Fan Death song. Though most of the songwriting was performed with just Opaine and Findlay the conception of the sound the band was going for was conceived as a group.
Fan Death was conceived out of a strong desire to recreate the heyday of '80s electro pop, drawing on influences like Depeche Mode, OMD, Human League and even Alphaville. Combine this with a love of the epic soundtracks of '80s fantasy movies like The Neverending Story and you start to approach their sound.
Conceived after Opaine had moved to Montreal and Jaciub-McKeever had moved to New York, they worked on the project until, eventually, they both settled back in Vancouver. Originally conceived on a smaller scale, string arrangements that back most of the tracks on the album and EP were rearranged for a quartet by UK musician Leo Chadburn, who also records under the name Simon Bookish.
"He's a very obscure artist, but he's very important to a lot of people," said Opaine.
The band gets their name from a South Korean urban legend which holds that it is possible for an electric fan left running in a closed room to kill the occupants of the room. There's little scientific basis for this, but it is something worried about especially in South Korea. Their name is not a reference to fan homicide or the blurring of the lines between fans and artist, though apparently thinking it might be one of these things are common mistakes.
Though Fan Death is a band, the aesthetic of everything associated with them is also worth noting. At this point in time they've got three music videos released for a five song EP and a single. Opaine works with the Salazar film collective (who did the video for their song "Veronica's Veil"). Opaine did styling on the new Babe Rainbow video and an upcoming Blue Violets video.
They have another video coming out soon for the song, "When the Money is Right" (see that rad picture over there? that's what the video will look like) which features the girls robbing middle-class victims in a mansion. They will have a video release party at Little Mountain Studios, though it seems like they may not play it as it's difficult to play anything with any level of volume at Little Mountain. Check their website (www.fan-death.com) for details on that party soon.
It's been a while since Fan Death played a show in Vancouver, though they had one booked on March 5 that got cancelled when they couldn't get visas to continue the tour into the States.
"We kinda want to do a bigger show [in Vancouver] with a [string] quartet," said Opaine, and in theory they will sometime soon.
Jaciub-McKeever also keeps busy in between tours working on her own projects. "I find it a bit selfish to just perform, to just play music," she said. This tis why she enjoys working with Girl's Rock Camp to teach young girls how to be musicians. Lately she has expanded this idea to be more than just for young girls (not that she's opposed to the idea of the Girl's Rock Camp, which she considers to be a "feminist establishment"). With some of her band mates from e.s.l. she has been continuing the camp's endeavours with young children, both boys and girls, on Galiano Island. She hopes that she can take the program up to northern B.C. to work with children in the smaller towns up there and native reserves.
On the other side of their career Fan Death recently returned from a photo shoot for Elle Canada that their new label, Last Gang Records, flew them out to take part in.
"It seemed so surreal," said Jaciub-McKeever. The shoot had 12 crew members and the entire purpose of it was for a single photo to run with a piece on them in the upcoming issue.
"Do these people not know who we are?" Jaciub-McKeever asked, wondering why Elle would be putting so much effort into an article on such obscure artists as themselves.
Though Jaciub-McKeever may not have clued in yet, these ladies have struck a cultural nerve and odds are that they won't be obscure for much longer.