CITR's 24 Hours of Radio Art in a snack sized format. Dark Ambient. Drone. Field Recordings. Noise. Sound Art. Or something.
All '80s, All The Time!  Fer shure!  This Friday afternoon's broadcast features music from the East German tape underground, reissued B.E.F. (ex-Human League, Pre-Heaven 17, pre-Clock DVA), Munster Records' reissued Femirama collection (1986) of experimental music by female composers (including Vancouver's Emily Faryna!), plus Psychic TV recorded live in Reykjavik (1984).  Bitchin'!
Starting at 2 PM Pacific on CiTR 101.9FM, streaming at PLAYER.CITR.CA
(Photo Credit: Cold Spring Records)
==========
New Music Review By Mark Hjorthoy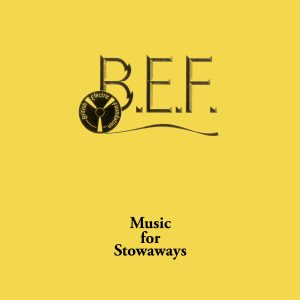 B.E.F. – Music For Stowaways
After The Human League, and before Heaven 17, the amazing Martyn Ware and Ian Craig Marsh created a limited edition cassette that was as made to be played on a Sony Stowaway, (the British name for a Walkman) in 1981. For the record, this is a highly underrated master work. It's like listening to the best of Human League, and the beginning of Heaven 17. You can hear the nucleus of "(We Don't Need This) Fascist Groove Thing" from Penthouse And Pavement on this album, and it feels like discovering a secret that no one was supposed to hear. A perfect representation of 1981, and something that everyone needs to hear. Again!
Psychic TV – Those Who Do Not
Re-releasing this album was a stroke of genius for Cold Spring Records. Long out of print, this is the prodigious lineup, (with Peter Christopherson and Geff Rushton of Coil) released the same year as Dreams Less Sweet. This is the pinnacle of their live shows. So full of tension and pain, beauty and sorrow, it's everything you need to experience live Psychic TV. This is the band at its best, and the packaging is genius as well. You need this album. Seriously, you really do. Genesis told me so…in a dream, or maybe I'm "psychic"!
400 Lonely Things – Mother Moon
When I heard that William Basinski produced this album, I knew I had to hear it. I wanted it to work. I really did. And it is now in my top 10 releases of the year. So full
of personality, this album floats warmly and paints the air with every delicate moment. I found myself feeling sad when the last piece played and I needed to sit with my thoughts before going back to it, again and again. It brought me home. When you read why this album was made, you'll be just as fascinated as I am.
Thanks Cold Spring Records. You nailed it again.