Top cuts from the station. Nearing the end of 2015, but still getting some great new tunes! Congrats to Swim Team and LNS for some good local debuts. Hot Heros 2 still killing it.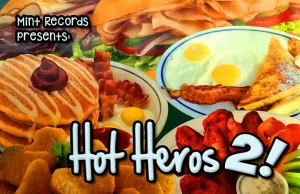 1 Various*+ Mint Records Presents: Hot Heros 2 Mint
2 Moss Lime* Zoo Du Quebec Telephone Explosion
3 Traces* EP Self-Released
4 Soft Serve*+ Soft Serve Self-Released
5 Swim Team*+ Freedom/Constraint Self-Released
6 Benoit Pioulard Noyaux Morr
7 Princess Century* Progress Paper Bag
8 Buckman Coe*+ Malama Ka Aina Tonic
9 Sheer Agony* Masterpiece Couple Skate
10 Majical Cloudz* Are You Alone? Arts & Crafts
11 Julia Holter Have You In My Wilderness Domino
12 Oneohtrix Point Never Garden of Delete Warp
13 A Sunny Day In Glasgow Planning Weed Like It's Acid/Life Is Loss Self-Released
14 Various* Level Up CJSW 90.9 FM
15 The Beverleys* Brutal Buzz
16 Le1f Riot Boi XL / Terrible
17 PC Worship Basement Hysteria Northern Spy
18 Life Without Buildings Any Other City (Reissue) WYR?
19 Sharon Jones And The Dap-Kings It's A Holiday Soul Party Daptone
20 Knife Pleats*+ Hat Bark Beach Lost Sound Tapes
21 We Are The City*+ Above Club Boompa
22 Qasim Naqvi Preamble NNA Tapes
23 Joanna Newsom Divers Drag City
24 Melissa Lauren Your Mess Self-Released
25 Tarholes* Tarholes Self-Released
26 Dead Ghosts*+ Love And Death And All The Rest Burger
27 LNS*+ Maligne Range 1080p
28 Other Jesus*+ Everything Is Problematic No Sun
29 Pixel Golden Years Cuneiform
30 Rattlesnake Choir* The Prospector's Curse Cameron House