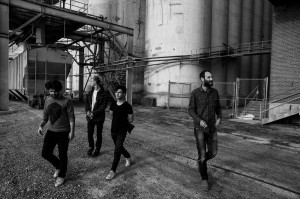 Calgary's post-punk rock band, Viet Cong, broke out with their debut record, Viet Cong. Earning the influential approval from Pitchfork via their Best New Music stamp earlier this year (8.5 rating, guys), Viet Cong is selling out shows such as the one being put on by Timbre Concerts this Saturday at The Biltmore Cabaret.
Recently in hot water for the name of their band causing so much social tension on a campus venue that even the promoter (Ivan Krasnov) responsible for booking them released a statement in support of the Vietnamese community, it'll be interesting to see the turn-out for the show. Unlike Black Pussy, however, Viet Cong has support from Gang of Four so life ain't all bad.
Freak Heat Waves will be there too, show your support for the avant-garde trio and their latest Bonnie's State of Mind.
Sponsored by CiTR Radio and Discorder Magazine