The Social Justice Centre is excited to announce the SJC Conference 2015, starting next week!
It will be a series of free events exploring critical issues at the university and abroad. Starting shortly before the State of Extraction conference at Simon Fraser University, it will feature many of the presenters from there. It would be great if you could come and spread the word!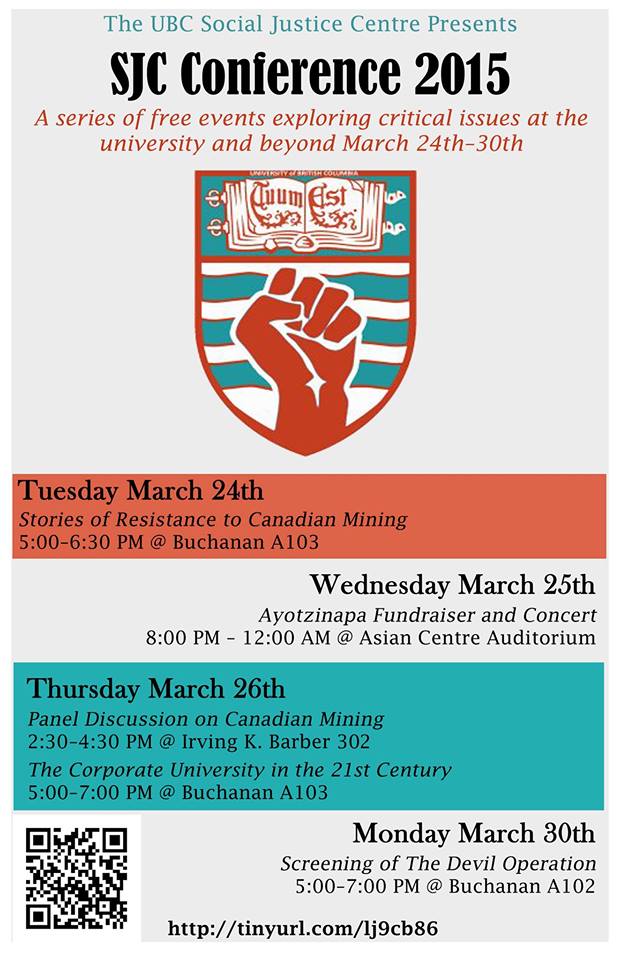 This Facebook event page contains links to all the events: https://www.facebook.com/events/1571387126438212/
​
Tuesday March 24
————————-
​
Diadora's testimony from La Puya: Stories of resistance to Canadian mining in Guatemala
5:00–6:30 PM @ Buchanan A103
https://www.facebook.com/events/375389955982434/
Video testimony of Diadora, a grandmother standing against the El Tambor mine, a project of Canadian mining company Radius Gold, which led to the iconic La Puya resistance near the town of San Jose del Golfo in Guatemala.
Wednesday March 25
——————————
Ayotzinapa concert and fundraiser
8:00 PM – 12:00 AM @ Asian Centre Auditorium
Awareness and fundraiser event with live Latin music for the 43 missing Mexican students of Ayotzinapa. Funds are being raised to start a community radio station, as per the community's request.
Thursday March 26
—————————
​
A Questionable Proposition of Values
2:30–4:30 PM @ Irving K. Barber 302
https://www.facebook.com/events/909246072430106/
A moderated panel discussion by activists and mining-affected community members on Canadian mining, the privileges given by provincial and federal government and the impacts of these companies on communities.
​
The Corporate University in The 21st Century: Panel Discussion
5:00–7:00 PM @ Buchanan A103
https://www.facebook.com/events/809065795829794/
Panel discussion by student and faculty on the state and future of the university, exploring affordability, corporatization, and the role of the university in a democratic society.
Monday March 30
————————
​
Screening of 'The Devil Operation' + Q&A with directors Stephany Boyd and Miguel Araoz
5:00–7:00 PM @ Buchanan A102
https://www.facebook.com/events/853720281340253/
The real life political thriller of Father Marco, a human rights defender in Peru whose work against the Yanacocha mine's abuses has earned him the nickname 'The Devil'.
Hope to see you there!