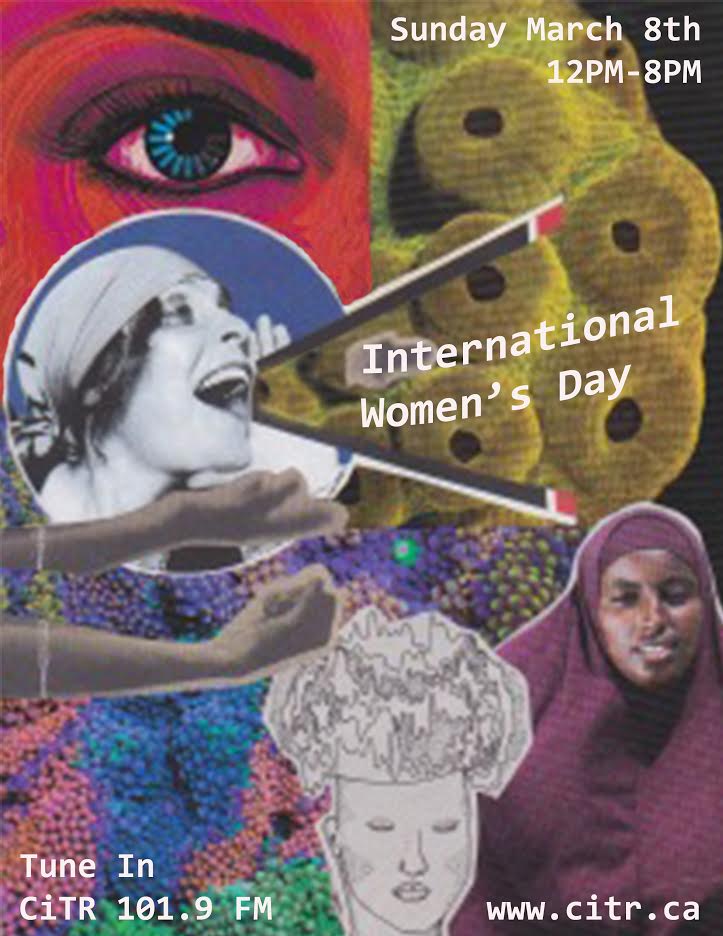 Artwork by Erica Dolman and Claire Smale 
Discorder Illustration by Sharon Ko
From 12 – 8 PM on Sunday, March 8, CiTR's airwaves will be filled with programming  to celebrate International Women's Day! Tune in as CiTR's programmers celebrate the role of women throughout the world with 8 hours of vibrant, energetic and dynamic material. Click through for the full schedule!
12 – 1 PM: Nellie Stark kicks things off with an all-Femcon edition of her show The Cat's Pajams.
1-2 PM: Sarah Cordingley, CiTR's Music Department director, and member of local bands Ace Martens and Channels 3×4, curates an hour of all-Femcon music.
2-3 PM: Interviews with female musicians!  Andy Resto's (host of The Burrow on CiTR), interview with industrial/noise musician Pharmakon, prior to her show in Vancouver at the Fox Cabaret in February (2-2:40 PM),  followed by Jake Costello's (host of The Arts Report on CiTR) interview with drummer Terri Lyne Carrington (2:40-3:00PM). Terri-Lyne is a jazz drummer who just released "The Mosaic Project" an all female collaboration, and is currently working on "The Mosiac Project" part 2.
3-3:30 PM: BARTalk: Feminism and the Media in 2014, from Cited (Formerly The Terry Project Podcast) on CiTR.  As part of UBC Sexual Assault Awareness Month (SAAM), The AMS Sexual Assault Support Centre (SASC) and the Terry Project and AMS Events hosted a BARtalk panel discussion on January 15, 2015, reviewing the past year in feminism and media, and look at what has changed and what we can expect for 2015.
The panel from the discussion includes:
– Lucia Lorenzi, a 5th-year PhD candidate in English at UBC. She's currently working on her dissertation, which focuses on the aesthetics and politics of silence in narratives of sexual violence. (@empathywarrior)
– Jarrah Hodge, author of the award-winning feminist blog Gender-Focus.com and writes about gender, politics and labour issues. She has also written blog series for Bitch Magazine and the Vancouver Observer. (@jarrahpenguin)
– Scott Anderson, an assistant professor of Philosophy at UBC, who has written on a wide range of topics including ethics, social theory and sex/gender/feminism issues. Read his latest commentary on the sexual harassment cases involving Jian Ghomeshi and Canada's House of Commons ( https://news.ubc.ca/2014/11/17/the-ugly-truth-about-sexual-harassment/)

3:30 – 4PM: Women's Centre Reconciliation radio documentary, featuring stories from the women of the Downtown Eastside in Vancouver. This documentary was  produced by Doug West at CFRO (Co-op Radio, 100.5 FM), as a part of the National Campus Radio Association's (NCRA) Resonating Reconciliation documentary series in 2013.  The women of the Downtown Eastside of Vancouver are of the most affected by child apprehension, homelessness, and the residential schools. The group of women elders, through the Women's Centre were interviewed to give their accounting of these issues surrounding the Truth and Reconciliation Commissions and Reconciliation Canada's process, and give voice to the International Women's Day.
4-5 PM: Sara Lapsley discusses "fourth wave feminism" and plays some Femcon music. Sara is a former host of The Arts Report on CiTR, and member of Vancouver Riot Grrrl band Kreviss at the height of the Riot Grrrl movement.
5-6 PM: Hanna Fazio, former host of Chips n Dip on CiTR curates an hour of all-Femcon music.
6-7 PM:  Recording from Spoken Works III: Centering Black Voices, March 4 2015 at The Heartwood Cafe. Spoken Works is an open mic evening of poetry, music, spoken word, and performance, organized within a non-competitive and anti-oppressive framework. They focus on prioritizing the voices of QTIMIPOCs (queer, trans*, intersex, mixed, Indigenous, persons of colour), and also welcome submissions from all people who identify as Indigenous and/or racialized.
Featuring performances by: Blessing Olukemi Falayi, Cicely Blain, Kay Ho, Katrina Elisse Caudle, Anoushka Ratnarajah, Maneo Mohale, and open mic performers!
7-8 PM: Live in-studio performance by Tits and Bread! Hosted by Eleanor Wearing and Erica Dolman from Femconcept on CiTR. Tits and Bread is Katie Miles, Olivia Shaw and Maya Graves.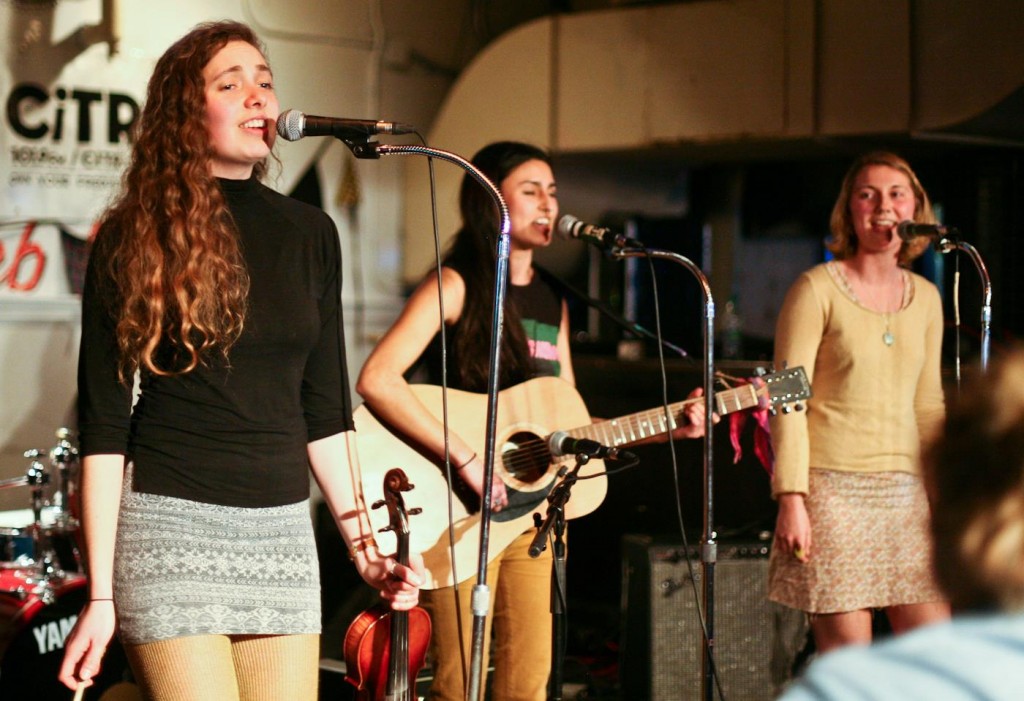 Tits and Bread
Photo by Ren Buress