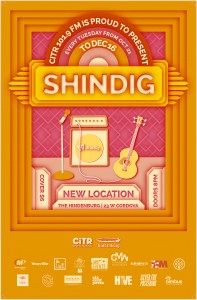 IT'S HERE. Join us for the annual SHiNDiG finals on Friday, February 6th!  And it's live on-air at 101.9FM or online at citr.ca
Since launching in 1983, over 800 bands have played SHiNDiG. This year's prizes include studio time, showcases at Music Waste and Toronto's Canadian Music Week, Discorder features and more!
After twelve weeks of competition, only three acts remain: Still Creek Murder, Skim Milk, and Funk Schwey.
Still Creek Murder is a Vancouver rock duo comprised of Samuel Dick and Shay Hayashi. Their latest EP, Dandelo, came out on Friday! It doesn't seem to be available for streaming online yet, so you can take a listen to their previous release, To Shreds, below.
Skim Milk is the instrumental/hip hop project of UBC graduate and Brasstronaut member Sam Davidson. Davidson fuses a variety of sounds and influences, including electronic music and clarinet. He released his debut album last February. Give it a listen!
Funk Schwey is a funk, disco, and hip hop-inspired band. They released a new single, "Sh'qweyla," alongside the demo "Summertime" in July. Check it out!
Come on out and support these talented musicians! Doors at the Hindenburg (23 West Cordova) open at 8PM and, as always, cover is only $6. There will be cheap drinks, free pool and JOKES FOR BEER as well! For all the details, be sure to check out the Facebook page here.
Give us a follow over at @CiTRradio and @CiTRShindig, too!
"Shindig isn't really a battle of the bands competition – it's a showcase of local music and an excuse for people to see local bands" – Shindig host, Ben Lai