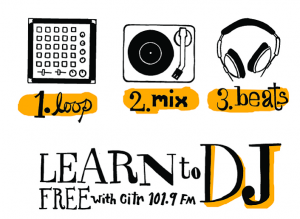 Learn how drum beats and loops work, and how to mix music at CiTR!
Our DJ 101.9 workshops are from 6-9 PM on Tuesdays in the CiTR studios. Free for students and CiTR members!
No experience is necessary, and equipment is provided.
Want to learn how to make your own tracks or mix tapes? Interested in remixing your favourite song? Practice on controllers, CDJs, turntables and tablets.
Classes are capped at 10 people, so don't miss out! For more information and to sign up, visit the station or e-mail volunteer@citr.ca.