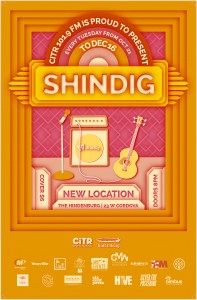 Join us for the final SHiNDiG semis of the year before the finals! Tarantula Head, Funk Schwey and Purple Hearts Social Club will be taking the stage this Tuesday, January 27th to compete for the last spot.
Congrats to Still Creek Murder and Skim Milk, who won the first two semis. You'll have an opportunity to catch them live next on Friday (that's right, Friday), February 6th at the finals!
Founded in 1983, SHiNDiG has provided a platform to showcase local bands and musicians in all genres. This year, prizes include studio time, features in Discorder Magazine, music industry consultations, and showcases with Music Waste and Canadian Music Week!
Tarantula Head is a psychedelic punk trio. Comprised of Nick Collings, Sean Maschmann and Ryan Karl Schmidt, the group released their latest effort, The Deer Council, in May of 2014. Check it out below!
Funk Schwey is a funk, disco, and hip hop-inspired band. They released a new single, "Sh'qweyla," alongside the demo "Summertime" in July. Take a listen!
R&B quartet Purple Hearts Social Club is inspired by one of the members' daughters, Phoenix, who bravely fought leukemia for nearly two years. They played Victory Square Block Party this past summer. Here's a video of the group performing their song "Holding You."
Doors at the Hindenburg open at 8 PM. Cover is $6.
Happy hour is from 8 PM – 9:30 PM: all drinks are only $3.50! There will be free pool, board games and pinball all night… and we can't forget JOKES FOR BEER! For all the details, be sure to check out the Facebook page here.
Give us a follow over at @CiTRradio and @CiTRShindig, too!
"Shindig isn't really a battle of the bands competition – it's a showcase of local music and an excuse for people to see local bands," says Shindig host Ben Lai.