On October 24, 2013, CiTR's Persian-English program, Simorgh, hosted an interview with director and author, Soheil Salimi, of "Butcher Angels". The movie, Butcher Angels is a narrative about the Indigenous people of Afghanistan, based on real events documented by activists and journalists. The movie raised controversial yet prominent discussions about the agendas of humanitarian projects in places under intense instability.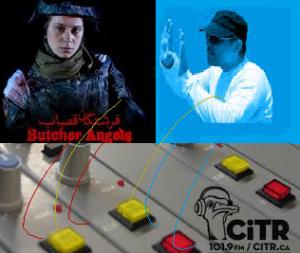 The two episode interview made a huge positive impact on perspectives of local people in Vancouver about the concepts of humanity, colonization and globalization. Since then, many local awards in Vancouver were granted to "Soheil Salimi", the creator of "Butcher Angels".
 You can listen to CiTR's Simorgh interview through CiTR podcasts dated
October 24
, and
October 31
, 2013.
Simorgh airs on Thursdays at 5-6 p.m. on CiTR 101.9FM with your host Mahtab.