Please join me in welcoming Adrian Verdejo for a live on-air performance on 4'33", on Monday, Dec. 1st, 6-7pm.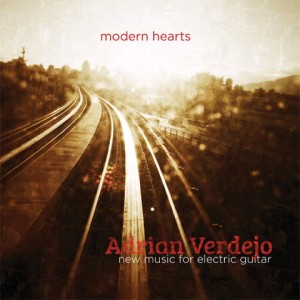 As an in-demand Vancouver-based guitarist, Adrian performs both as a soloist and with the Victoria Guitar Trio and Erato Ensemble. He has also performed with the Vancouver Symphony Orchestra, the Turning Point Ensemble and the Aventa Ensemble, amongst many others.
Adrian will be showcasing his recent album release of solo electric guitar music, Modern Hearts, featuring works by Jordan Nobles, Nicole Lizée and James Tenney, Tristan Murail, Scott Edward Godin and Rodney Sharman.
On Modern Hearts:
"Verdejo delivers an album of wonder, curiosity and pure, focused energy" – Bradford Werner, ThisIsClassicalGuitar.com
On Adrian Verdejo:
"… the guitarist's star continues to rise thanks to his ability to inject new ideas, seasoned virtuosity, and, yes, a dash of amped-up energy into the local contemporary-music scene." – Alexander Varty, The Georgia Straight