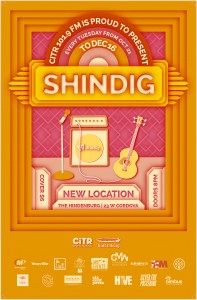 New week, new SHiNDiG! Congrats to SKIM MILK, who won last night and will be moving on to the semi-finals in January!
Along with exposure in the local music scene, entrants have the opportunity to win studio time, features in Discorder Magazine, music industry consultations, and showcases with Music Waste, Canadian Music Week, and AMS Events.
Next Tuesday, November 25th promises to be another night of diverse talent with Alea Rae, Poles, and Scotty P & The Virgins hitting the stage.
Alea Rae is a sad indie-folk trio, consisting of Alea Rae Clark, Patrick Farrugia, and Jeremiah Ackermann. Take a listen to their split single "Flies & Lancaster" below!
Poles is a post-punk band. Formed in 2012, they released a 7" of tracks "Merman" and "Pest" late 2013. Check it out below.
Scotty P & The Virgins is a Coquitlam-based garage rock band comprised of Scott Postulo, Clay Killer, and Jordan Van Thunder. This past summer the trio released "Natural Selection," a track off an upcoming release recorded with Felix Fung at Little Red Sounds.
Doors open at 8 PM. Happy hour is from 8 PM – 9:30 PM: all drinks are only $3! There will be free pool, board games and pinball all night… and we can't forget JOKES FOR BEER! For all the details, be sure to check out the Facebook page here.
Give us a follow over at @CiTRradio and @CiTRShindig, too!