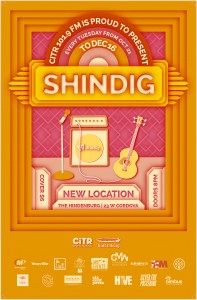 Once again, three awesome acts are going to be hitting the stage at The Hindenburg this Tuesday for another week of SHiNDiG! Malk won last week and will be moving onto the semi-finals to be held in January!
The prizes up for grabs include studio time, features in Discorder Magazine, posters, as well as showcases with Music Waste, Canadian Music Week, and AMS Events. Hundreds of bands and musicians playing every genre imaginable have participated in SHiNDiG since it was founded in 1983!
Skim Milk, Spring Breaks, and Two Doges and A Couple of Bauds will be gracing the stage Tuesday, November 17th.
Skim Milk is a project by UBC grad and Brasstronaut member Sam Davidson. Davidson fuses various sounds and influences including electronic music and clarinet, and released his debut album in February. Give it a listen below!
Spring Breaks is a three-piece garage rock act. Comprised of Valerie Graham, Jordon Zylstra and Bianca Carr, the band played at Music Waste earlier this year. Check out one of their new songs, titled "MTL."
Two Doges and A Couple of Bauds is the collaboration of Matt King and Omar Prazhari. They are influenced by hip hop and shoegaze, amongst other genres of music. Stream their album Regardless of Genre (ha) below!
Come out on Tuesday for a rad time! Doors at The Hindenburg (23 West Cordova) open at 8PM. There will be cheap drinks, free pool and JOKES FOR BEER as well! For all the details, be sure to check out the Facebook page here.
Give us a follow over at @CiTRradio and @CiTRShindig, too!