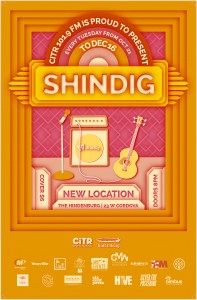 Another Tuesday means another lineup of stellar music at The Hindenburg! Congrats to Revered, who won last night's SHiNDiG and will be back for the semi-finals early next year!
Founded in 1983, SHiNDiG has provided a platform for hundreds of bands and musicians of all different genres. Prizes this year include studio time, showcases with Music Waste, Canadian Music Week and AMS Events, Discorder Magazine features, poster distribution and more!
Tuesday, November 10th will feature sets from Double Standards, Malk and Speller! CiTR DJs will be spinning tunes after the bands.
Double Standards is a two-piece rock band comprised of Steven Finnegan and Matt MacEwing. The duo is currently working on a new EP. Take a listen to the collection of demos posted on their Bandcamp page below!
Get ready to be drawn in by the dark surf pop sound that is, Malk! The Abbotsford/Vancouver-based band will be releasing their debut EP, Prehistoric, on December 13th. Give their tunes a listen below.
Speller appears to be a female-fronted band that draws influence from a variety of genres like folk, rock, and pop. Here's a track from their Soundcloud page, titled "Girls On Film."
Don't miss out on what is sure to be a fun night! Doors to The Hindenburg (23 West Cordova) open at 8 PM. There will be cheap drinks and free pool. Plus, JOKES FOR BEER! For more information and to RSVP, visit the Facebook event page here.
Give us a follow over at @CiTRradio and @CiTRShindig, too!