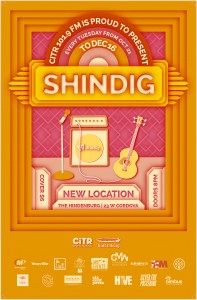 After a second week of SHiNDiG with Still Creek Murder moving on to the semi-finals, we're moving right on to week three with three more bands getting ready to take the stage at The Hindenburg next Tuesday night!
In case you forgot, SHiNDiG is CiTR's "battle of the bands," an event that has hosted more than 800 bands over the past 30 years. Free studio time, showcases at Music Waste and Canadian Music Week, and a feature in Discorder Magazine are amongst the prizes up for grabs with this year's competition.
The acts performing this Tuesday, November 4th are Screaming Queens, Revered, and The Spheres!
Screaming Queens is a queer experimental punk quartet that has been on the scene since 2010, based out of East Vancouver. You can listen to their EP, Psychedelia via Bandcamp below!
Revered is the experimental project of composer and frontman, Emmett Hall. Check out a demo on his Soundcloud titled "Dying Forever" below.
Matt Harvey, Mike Pascuzzi, Siobhan Sagessa, Nathan Stafford, and Max Szentveri make up The Spheres, a synth-pop band from Vancouver! Make sure to give their latest release, Some Spheres, a listen.
Come down to The Hindenburg (23 West Cordova) for some catchy tunes, cheap drinks, and free pool! CiTR DJs will spin after the bands. Cover is $6, and doors open at 8 PM. Plus, JOKES FOR BEER! For more information and to RSVP, visit the Facebook event page here.
Give us a follow over at @CiTRShindig, too!