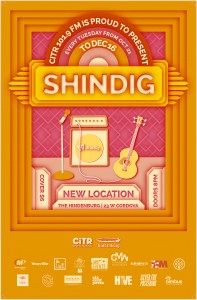 CiTR's annual band competition has been showcasing new and unknown local bands since 1983. Over 800 local bands have competed, winning studio time, showcases and media coverage, while the audience heckles and tells jokes for beer.
Shindig! starts Tuesday, October 21, and continues nine weeks until Tuesday, December 16th, at the Hindenburg, 23 West Cordova in Gastown. Semis will happen January 16 / 20 / 27 and the finals on Friday, February 6th. Cover is $6, with free pool, a brand new stage, local beer on tap, and CiTR DJs spinning tunes after the bands.
"Shindig isn't really a battle of the bands competition – it's a showcase of local music and an excuse for people to see local bands," says Shindig host Ben Lai.
Learn more about past Shindig! winners, and how the judging happens. Join the faceboook group, and get updates on twitter @citrshindig.
Here is the schedule!
Shindig Night One – October 21st
Fundamentally Unsound
Pale Red
The Vaporettos
10/28/2014
Rainboard
Sam Tudor
Still Creek Murder
11/4/2014
Revered
Screaming Queens
The Spheres
11/11/2014
Double Standards
Malk
Speller
11/18/2014
SKIM MILK
Sping Breaks
Two Doges and a Couple of Bauds
11/25/2014
Alea Rae
Poles
Scotty P & The Virgins
12/2/2014
Glad Rags
Stanley Park
Tarantula Head
12/9/2014
Ace Martens
Funk Schwey
GBBGs
12/16/2014
RAISED ON DJs
The Plodes
Purple Hearts Social Club