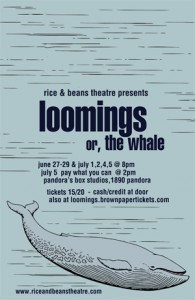 Loomings; or, the Whale is a powerhouse fantasia loosely inspired by Herman Melville's Moby Dick. The company responsible for crafting this ambitious play is Rice & Beans Theatre, a theatre company composed of alumni from Simon Fraser University's School of Contemporary Arts program.
Loomings is an expressionistic presentation of the turbulent relationship between father and son. The play bravely challenges methods of storytelling utilising repetitions and variations of leitmotifs, fragmented scenes, and wild, improbable stage pictures.

Playing at Pandora's Box Studios from June 27th to 29th, July 1st,2nd,4th,5th. All shows 8 pm, with a 2 pm matinee on the 5th. Online tickets can be purchased here.
Sponsored by CiTR & Discorder Magazine.