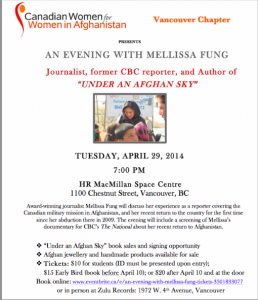 Journalist, former CBC reporter, and Author of "UNDER AN AFGHAN SKY," Award-winning journalist Mellissa Fung will discuss her experience as a reporter covering the Canadian military mission in Afghanistan, and her recent return to the country for the first time since her abduction there in 2009. The evening will include a screening of Mellissa's documentary for CBC's The National about her recent return to Afghanistan.
"Under an Afghan Sky" on sale with signing opportunity, as well as Afghan jewellery and handmade products available for sale!
Come out on Tuesday April 29th, 2014 at 7:00pm at HR MacMillan Space Centre, 1100 Chestnut Street, Vancouver BC for this amazing experience.
Tickets are $10 for students (ID required upon entry), $15 Early Bird tickets (before April 10th), or $20 after April 10th and at the door.
Book your tickets online here, or in person at Zulu Records! (1972 W. 4th Avenue, Vancouver)