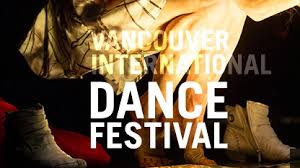 The 2014 Vancouver International Dance Festival is just around the corner!
This year's festival features artists from China, Spain, USA, Germany, Japan, and Canada. Groups will be performing a diverse range of techniques and styles such as butoh, hip hop, flamenco, ballet, as well as cutting edge contemporary dance.
Visit www.vidf.ca/tickets to buy tickets online and save up to 20% off regular ticket prices when you purchase either a Roundhouse Flex Pass or Playhouse Pass!
In addition to its signature evening performances, VIDF 2014 also features a variety of free-for-member performances (Membership cost: $3) in the Roundhouse Exhibition Hall. Additionally, watch for free site-specific performances throughout Metro Vancouver.
Tune into the Arts Report on CiTR TONIGHT from 5-6 PM and donate to our Fundrive to win tickets to the Guangdong Modern Dance Company with the Goh Ballet this weekend!
With an array of venues, performances, and other activities this is not something you want to miss out on. For specific performance dates and additional information about the festival visit www.vidf.ca or the VIDF Facebook page here and find out more about the Vancouver International Dance Festival!
Sponsored by CiTR 101.9 FM!