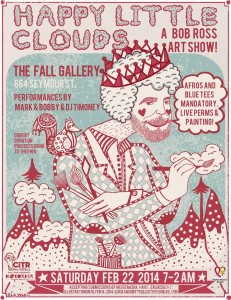 Have you ever wanted your Happy Little Clouds on display?
The FALL Tattooing and Artists Gallery is hosting a Boss Ross Art Show on February 22nd and they're looking for some quick and dirty art work of any miraculous medium that pays homage to Bob Ross.
For more information about submission details check out the Happy Little Clouds Facebook page here. Submissions accepted until February 14th!
Entry by donation with proceeds going to the Positive Women's Network.
Performances by Mark and Bobby & DJ Timoney. Come for a night of curly brown perms, blue jeans, art, and music! This is something you definitely don't want to miss.
Sponsored by CiTR, 101.9 FM!