PuSh is Vancouver's International Performing Arts Festival, presenting dynamic, challenging and ground-breaking art from across the world every January. CiTR Arts Reporter Brenda Grunau attended three PuSh performances over the past two weeks, and penned the following review: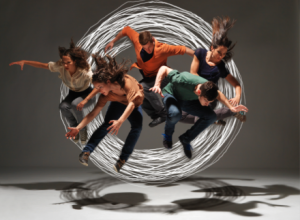 The Inheritor Album is a series of pieces exploring inheritance and succession through dance. Vancouver's 605 Collective delivers a powerful, athletic, and driving performance, accented by the sketches and animations of Miwa Matreyek. The fast pace of the choreography was captivating, and chose freedom and expression over the stuffy precision of classical dance. The audience entered the theatre to Caribou's Sun, setting the mood for original sound design by Kristen Roos. Movements of group joy, the race of time, the passing of physical characteristics and people, and the breakdown, death and rebirth of bodies sparked a different, visceral experience of transition and succession. The work of Matreyek complimented the dancers perfectly, creating shapes and lines for the dancers to relate to, or punctuating a piece with large, filmed wriggling arms, or chaotic, intense drawings of buildings and machinery. 605 Collective was mesmerizing, and highly recommended! Performances run until February 2.
Read on for reviews of One and The Dragonfly of Chicoutimi.
On January 30, I attended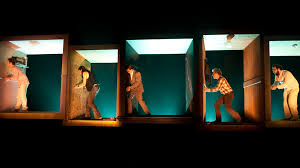 Lastly, I attended The Dragonfly of Chicoutimi at SFU Woodwards on January 22. The lobby was buzzing with French, fitting for this seminal work on the tensions between French and English in Quebec produced by Theatre Pap. Five actors (including Mani Soleymanlou) represented the subconscious of Gaston Talbot, a man from Chicoutimi who tells and retells story of his childhood, getting closer to the truth each time. The story is interrupted by a disturbing and fantastical dream that is mesmerizing in the telling, but loses the narrative pull for the audience. The five Gastons speak in chorus, repeating phrases and movements, taking turns as the storyteller and creating a dreamlike state interrupted by discordant and fanciful organ blasts. Gaston suffers a childhood trauma and doesn't speak for years, until his dream causes him to spit out only English words. The play was beautifully presented, with a fascinating script, but left me feeling detached from the character and the story.
The PuSh festival runs until February 2. Check out some thought provoking art this weekend!