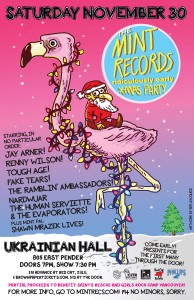 If you think November is too early to celebrate the holidaze, think again. Because Mint Records' Ridiculously Early Xmas Party is back for another year next Saturday, November 30!
Performers at this warm and fuzzy holiday party will include Nardwuar The Human Serviette and his band The Evaporators, Tough Age, Renny Wilson, Jay Arner, Chris Mastheim, Fake Tears, Shawn Mrazek Lives!, and DJ Duncan McHugh, host of Duncan's Donuts on CiTR!
Tickets are $10 in advance, and $13 at the door. They can be purchased online at brownpapertickets.com or in-person at Red Cat and Zulu Records.
The show is being held at the Ukrainian Hall, 805 East Pender Street. Doors are at 7 PM, and the show starts at 7:30 PM. As per the Ridiculously Early tradition, if you're the earliest to show up, you will get a present. So show up early!
Partial proceeds go to support SAINTS, a sanctuary for senior/special needs animals and Girls Rock Camp Vancouver.
Sponsored by Phillips Brewing Company and CiTR, 101.9 FM!