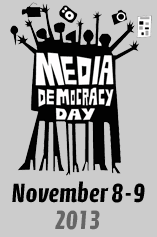 The 13th annual Media Democracy Days is happening next this Friday Nov. 8 and Saturday Nov. 9 at the Vancouver Public Library's central branch and The Cinematheque.
Since 2001, Media Democracy Day has united engaged citizens, activists, media and cultural producers, academics, students, and community leaders in a dynamic, charged, and urgent discussion of the state of our Canadian media system.
The event features panels, speeches, films and workshops addressing the politics and biases linked to our increasingly concentrated media environment. It will also feature trade show style exhibition known as a 'Media Fair' with local, alternative and innovative media organizations, including CiTR!
FULL SCHEDULE:
Workshops: Friday, Nov. 8 | 1:30-5:00PM | VPL Central Library
Film Screening, Keynote Speech, and Reception: Friday Nov. 8 | 6:30PM | The Cinematheque
Full day of Panel Discussions: Saturday, Nov. 9 | 12:00PM | VPL Central Library
For more information, visit the Media Democracy Days website.