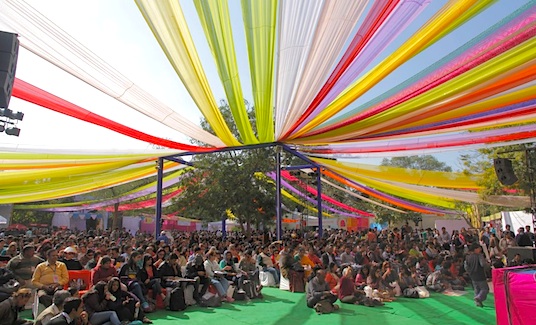 Arts Reporter Rohit Joseph attended the Indian Summer Festival 2013, a celebration of arts, ideas and cultures. 
The Indian Summer Festival, which took place in various venues throughout Vancouver from July 4th to July 13th, provided a wide range of events which catered to anyone even remotely interested in art, music, literature, and cuisine. Two of the events I attended were part of what the Indian Summer Festival's organizers labelled the "Ideas series". These events were a series of conversations involving a tailored selection of intellectuals who discussed their views on topics such as cultural hybridity, and the sources of their artistic inspiration. The last event I attended was a variety show of artistic talents, , storytelling, and spoken word poetry.  Here are the highlights and memorable moments of my experiences at these engaging events.
"Urban Underbelly" https://indiansummerfestival.ca/events/underbelly/
Three renowned authors were invited to have a conversation moderated by Vancouver's own Michael Turner (journalist and author), on their personal intrigue with the undesirable aspects of urban cities. Jeet Thayil and Anosh Irani are authors of Indian descent who set their novels in the seedy underbelly of Bombay.  Thayil's novel Narcopolis (which was shortlisted for the Man Booker Prize last year) is located in the dystopian yet hauntingly beautiful world of Bombay's opium dens. However, the surreal and relatively peaceful world of the opium den is on the verge of being torn apart when cheap heroin begins to flood the Bombay illicit drug market. Thayil's poetic side was on full display when he read an excerpt of Narcopolis' opening sentence…a sentence spanning six and a half pages! Thayil's reading captivated the audience with its seemingly improvisational, unpredictable flow. You could not help but feel entranced by the dream-like environment of the Bombay opium den, a world full of characters that Thayil believed needed to have their stories told.
Anosh Irani's read a passage from his work called The Cripple and his Talismans, which tells the story of a man who wakes up in a hospital bed without an arm, forcing him on a journey to navigate the Bombay Red Light District to find out what happened to him and to get his arm back. This disturbing story actually manages to incorporate a ton of dark humour, which was exemplified in Irani reading aloud the passage where his crippled protagonist tries to shop for a replacement arm in the black market. Anakana Schofield, an Irish-Canadian author, wrote of a more 'rural underbelly' in her novel Malarky. Unlike the other authors in this talk, Schofield's story is based on the experience of an Irish mother whose country-bumpkin existence is disrupted when her son brings home his homosexual lover. Although Schofield's writing is certainly sharp and witty, the content of Malarky was not quite as relevant to the themes that embedded the novels of Thayil and Irani. It was interesting to note that all of these authors tend to write away from the places that inspire their novels. Irani phrased it best when he described Canada as being his "canvas" but Bombay functions as his inspirational "muse." If Canada can act as a canvas for a new wave of international authors from a variety of cultural backgrounds, perhaps we can see further recognition and growth in Canadian literature as a whole.
"I Don't Want to Choose"  https://indiansummerfestival.ca/events/mehta/
This event was a conversation between the author Jeet Thayil and acclaimed filmmaker Deepa Mehta moderated by the Artistic Director of the Indian Summer Festival, Sirish Rao. This event's conversations were at a much more personal and down to earth level. For example, Irani and Mehta refused to be held to one cultural identity. They felt strongly about having to face societal pressure to identify themselves as being more "Indian," "English," "American," or "Canadian." Thyail is monolingual, and he describes the English language as being his native tongue. Thyail expressed disdain when he mentioned that people told him he was "inauthentic" for not writing or speaking in his family's ancestral tongue of Malayalam (a language spoken in South India). Deepa  Mehta, the director behind Fire, Water, and Midnight's Children, brought up the issues with trying to identify with one culture since she has been influenced heavily by Western and Eastern texts alike, whether it be Stanislavsky's system of method acting or 2nd century Indian texts on drama, dance, and theatre. Mehta was particularly distraught by the fact that her own work has sparked a ton of controversy in her own country for being "anti-Hindu". Her productions have suffered death threats and bombings over the years, forcing her to film in countries other than India. Ultimately, both of these authors feel limited by cultural labels and the idea of being "culturally authentic." In our globalized world, it seems Thayil and Mehta advocate a more individual basis on cultural identity; people should have the freedom to adopt any cultural traits without having to make a conscious choice or live up to the expectations of their family's ethnic backgrounds.
"Lit and Sound Cabaret" https://indiansummerfestival.ca/events/cabaret/
The Lit and Sound Cabaret show finished off the Indian Summer Festival with an amazing display of local talent. A trio of incredible musicians called "Lapis" opened and closed the show. "Lapis" is composed of Rup Sidhu (a beatboxer who makes excellent use of looping stations), Mohamed Assani (a master of sitar), and Curtis Andrews (maestro of classical Indian percussion). The improvisational nature of their performances, combined with the pure synergy of a veteran band, and the unique blend of hiphop with Indian classical was a spectacular auditory treat to behold. Additionally, the multi-talented Jeet Thyail also jammed out with Lapis creating a psychedelic sort of interlude between the other acts. Along with these great musicians were some of Vancouver's finest examples of Slam Poets. Jillian Christmas and Zaccheus Jackson impressed the crowd with their heartfelt words and seamless rhymes. Their poems added a more sombre tone to the evening's festivities, but it was a great way to balance the celebratory aspects with contemplation. Overall, this was an awesome way to end the festival as it emphasized the transcendent nature of the Arts, bridging cultural gaps and building new perspectives on the modern world.