We kick off the show with some reviews of the  Indian Summer Festival from Rohit, Arts Reporter.
Chris Bentzen talks about his gallery Hot Art Wet City  and upcoming shows Hey Loser!, Teenage Wasteland (Sara Bynoe's Teen Angst for visual artists!), and Process Colour. The shows continue his commitment to fun, rough, modern and graphic art. Chris also gives us a few insights into running a gallery in Vancouver with "long artist statements" – ain't nobody got time for that. Be sure to check out the website for some amazing local artist interviews. Here's one with Hey Loser! artist Ali Bruce:
[field name=iframe]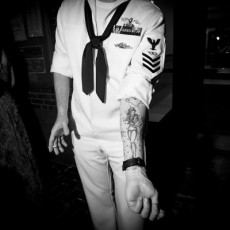 Last week, Sara Lapsley talked to Cate Rimmer (click for podcast!) about TATTOOS & SCRIMSHAW – the Art of the Sailor at the Vancouver Maritime Museum. This week Kathryn "Kitty" Mussallem, photographer and sailor aficionado will come on board live in studio to tell us some Salty Sailor Tales. You can hear all sorts of tales and check out Skin and Bone at the VMM July 18 and through October. We've been talking about this for ages, it's great to finally get to hear some salty tales.