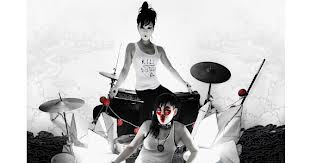 On August 3rd, the ever-compelling experimental art and music collective
Yamantaka // Sonic Titan will be performing at the Queer Arts Festival!
CiTR is a proud supporter of the show, as it will definitely be one you don't want to miss. Founded in 2007 by Alaska B and Ruby Kato Attwood, YT//ST are known for their unique and dazzling musical theatre performances that blend a wide range of aesthetic styles. From Noh, Chinese Opera, Chinese, Japanese, First Nations Mythology to Psychedelia, Black & White Television and Rock Operatics, this group has truly created a genre that is all their own.
Tickets are $5 for youth courtesy of the TD Come Out For Art Youth Ticket Program, $20 for adults in advance, and $25 at the door.
The show is at the Roundhouse Performance Centre, located at 181 Roundhouse Mews.
Bar opens at 6:30, so come early and check out the curated art exhibition TransgressionNow.
Show starts at 7:30 PM.
The Queer Arts Festival is an artist-run three week multidisciplinary festival held in Vancouver, celebrating queer art and artists, featuring a curated visual art exhibition, provocative new live performances and inspiring workshops.For more information about the festival and Yamantaka//Sonic Titan show, and to buy tickets online, checkout the Queer Arts Festival website.