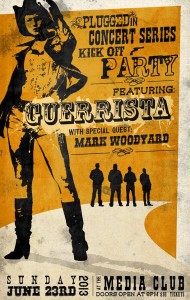 This Sunday, CiTR invites you to the Media Club for the Plugged In Concert Series kick off party!
The Plugged In Concert Series is a monthly series aiming to showcase the best of different genres within the independent music scene in Vancouver. To start the series off, soulful blues band Guerrista will return after an almost two-year hiatus to perform one night only reunion show. The talented Mark Woodyard will also be there to impress you with his guitar and loop pedal skills.
Tickets are $15 at the door, and $10 in advance online at Northern Tickets.
More event information can be found here.
Presented by Plugged in Concert Series and CiTR 101.9FM.