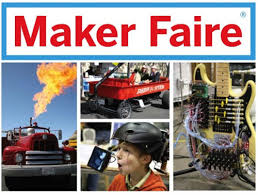 Members from the Maker community have come together to form Maker Foundation,a non-profit society aimed at curating Maker events.  And now they're bringing their talents to Vancouver!
This exciting event, which will take place June 1st and 2nd at the the PNE forums, is a family-friendly showcase of invention, creativity and resourcefulness.  They are of Makers range from tech enthusiasts to crafters to homesteaders to scientists to garage thinkers of all ages and backgrounds.
It is a show-and-tell style event which showcases many cool creations from Makers from all over, so make sure to check it out! You'll be amazed to see the fascinating cool displays that the Makers have in store!
 The event will be open on both Saturday and Sunday from 10 am until 6 pm. At the PNE forum building, which is easily accessible from the corner of Hastings and Renfrew.