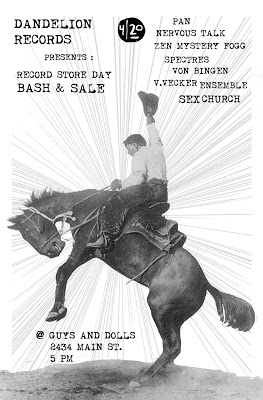 Dandelion Records
is celebrating Record Store Day with 
discounts on used vinyl, a selection of limited 
RSD releases and performances by
great local artists including Nervous Talk, 
Zen Mystery Fogg (who recently played the April 2013 Discorder Launch Party), Spectres, Von Bingen, 
V. Vecker Ensemble, Sex Church, and Pan (Daniel R.'s solo project).
Dandelion Records will be open 12-6, come by for a stamp for free entry to the show at Guys & Dolls (5pm).
Support record stores so they can be your emporiums for local and underground culture for years to come.