Friday, April 5, 2013
The AMS Block Party is today! The Block Party is an event by UBC students, for UBC students and the campus community as a celebration of a year completed and a summer soon to start. Six hours of music & revelry RAIN OR SHINE! CiTR is pleased to once again be part of the show – bringing you a live broadcast for the opening half.  Our hosts, Gordon Katic, Wade, Raien and Jason go live at 3:30 p.m. until approximately 6:30 p.m. Your usual programs at that time, 'Nardwuar the Human Serviette', 'News 101', along with a portion of 'Stranded: The Australian Canadian Show', will be back on-air next week.
Block Party 2013 Lineup: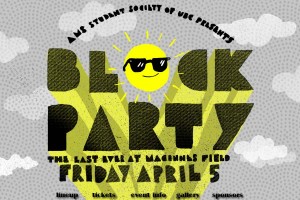 2:45 GATES OPEN
2:45pm M!G!H!
3:30pm *Anxiojam*
4:20pm *Good for Grapes*
5:20pm *K'NAAN*
6:50pm *Dillon Francis*
8:15pm *Mord Fustang*
on stage hosts are the hilarious and talented Caitlin Howden and Chris Casillan.