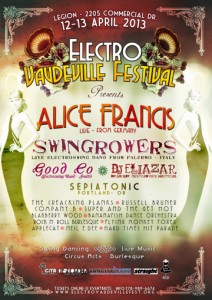 Welcome to the Electro Vaudeville Fest!
From April 12-13, come to the Grandview Legion, 2205 Commercial Drive, to  jive to the vintage tunes and fresh modern beats of electro swing, jazz and blues performed by bands from across Europe and North America and let your heart lead you on a
journey through time. Electro Swing is a new dance music sensation that mixes old-school swing and jazz songs, wrapped up in sick modern beats and sultry bass lines.
But, beware: you are certain to meet some exciting folks along the way! Burlesque and boylesque performers tantalize on-lookers. Gentlemen, take off your hats for the jaw dropping performances of acrobats. Give a holler for the cabaret performers, and a nod
waaay up to the stilt-walkers. Chances are you have never seen anything like this event before.
Dress up in your favourite Retro/Swing/Circus/SteamPunk/Victorian era influenced attire!
Friday April 12 8pm – 2am
Saturday April 13th 2pm – 6pm and 7pm -2am
Tickets: Friday adv. $29, Saturday Day show $25, Saturday night show $38
Sponsored by CiTR 101.9FM.