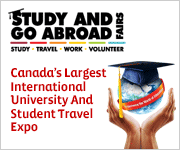 Today from 3-6pm,  CiTR will be broadcasting LIVE from the Study and Go Abroad Fair at the Vancouver Convention Centre (East Ballroom, Convention Level). We'll be interviewing volunteer, education and student organizations from around the world.
Since March 5th is mid-Fundrive (Feb 28-March 7th with our Finale March 8th at Chapel Arts) so Radio Free Thinkers and Discorder Radio will be joining us at the Centre to run their Fundrive edition programming.
We  are going to be giving donors during this fair will receive  $25 Gift Certificates to Travel Cuts UBC for donors at the Centre and on air! Plus listen for the amazing prizes that Radio Freethinker has!
The fair runs from 3-7pm, with free seminars starting at 2pm. Admission is free, but you can pre register to save time. More info at www.studyandgoabroad.com/vancouver, including a full list of guests.