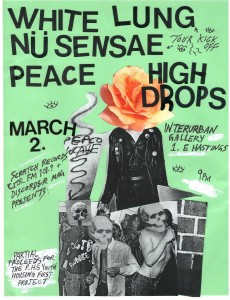 WHITE LUNG & NÜ SENSAE Tour Kick Off Party, Saturday, March 2, 2013 at the Interurban Gallery, 1 East Hastings Street (at Carroll).
White Lung are known for their furious yet melodic approach to punk, and they'll be joined by Nü Sensae, who have expanded their duo for a trio and  added another dimension of heaviness to the band's already mind-melting sludge attack.
With special guests PEACE, & THE HIGH DROPS, and record spinning by Justin Gradin!
With Nothing Is Heavy photo show, featuring Ted Reckoning, Asia Fairbanks, Tiina Liimu, Aaron Davidson, Milton Stille, and Sara Power.
$10.00 (plus s/c) advance tickets at Neptoon, Red Cat, Zoo Zhop, and Zulu Records. Online at northerntickets.com.
Partial Proceeds will go to the P.H.S. Youth Housing First Project, to remove barriers for housing and house the youth most marginalized through trauma, mental illness and addiction in Vancouver.
Presented by CiTR 101.9FM, Discorder Magazine, and Scratch Records.