Want to know more!? A panel on Indigenous rights and self-determination, the legacy of struggle against colonialism, and the Idle No More movement, is taking place at the Vancouver Public Library on Tuesday, and CiTR plans to be there!
————————–—————–
Tuesday Jan 22 at 5:30 pm
Alice MacKay Room
Vancouver Public Library (Georgia and Hamilton)
Unceded Coast Salish Territories
————————–—————-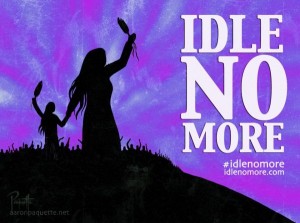 This panel is open to the public. All are welcome to attend, especially non-Natives to understand the long history of racism and colonialism in Canada against Indigenous people that has given rise to the current Idle No More movement, to highlight and lift the voices of Indigenous peoples resisting across these lands, and to think through how to be more informed and responsible allies.
Please spread the word – encourage your friends, your family, your co-workers, your faith group, your community/student group to attend.
– LIVESTREAM: www.livestream.com/occupyvan
– VIDEOS of panel will be available after Jan 29th here:
https://www.youtube.com/user/IdleKnowMore