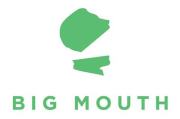 Today on Stereo Blues, friend of the show Polina Bachlakova is curating BIG MOUTH: A Speaker Series about Art and Education.
Presented by UBC's Department of Art History, Visual Art & Theory (AHVA) and the UBC Art History Students' Association (AHSA), "Big Mouth is an evening dedicated to redefining the relationship between the arts and education. Seven speakers."
"Big Mouth emerges out of a distinct need to shift a specific paradigm in this crucial time for Arts students in Canada. Our goal is to disrupt the stereotypes and doubts surrounding turning an arts education into a career, and to inspire and convince students of real possibilities to direct an arts education into a career and a lifestyle. "
Listen to Stereo Blues for info on the seven amazing speakers from the CAG, the Cheaper Show, and artists like Office Supplies Incorporated
WHEN: Wednesday, January 16, 2013
WHERE: Buchanan Penthouse – Buchanan B, 1866 Main Mall, UBC
WHEN: 5:30 pm – 7:30 pm
Reception 7:30 pm – 8:30 pm
HOW MUCH: FREE!Find out more information from the FB Event!