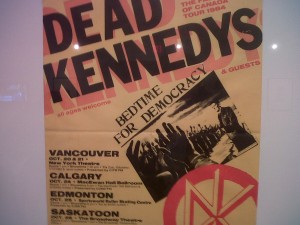 Tonight on the Arts Report!
We talk to Jamie Clay, curator of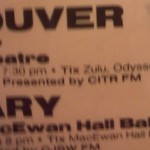 for her punk archives and more. Her archives bring together the punk, poetry and posters of that era – and for sure there is a dash of CiTR! (See right!)
And we do some chunking. From wikepedia: "individuals that exhibit the "chunking" process in their responses are forming clusters of responses based on the items' semantic relatedness or perceptual features. The chunks are often meaningful to the participant." "chunking" is also a dance conversation about memory, a star wars inspired multimedia ballet, a "playful, physical, inviting" experience; plastic orchid factory co founder, artistic producer and dancer  Natalie LeFebvre Gnam talks to us about chunking Nov 29 – December 1.
[field name=iframe]
Also joining us is Cecily Nicholson, curator of Nov 29th's iteration of Anamnesia: Unforgetting. From the VIVO website: "Nicholson has restored video documents from 1973 to 1979 that address the Oglala Sioux and American Indian Movement stand at Wounded Knee. Curated amongst them are documents [including lecturs and protests] of concurrent narratives on prison asylum and the civil rights movement…Winnipeg based Anishnabe Writer, Marie Annharte, author of Indigena Awry, Being On the Moon, Coyote Columbus Café and Exercises in Lip Pointing, will read at the event."
Finally, stick around for Arts Extra! with Sara Lapsley, who will be exploring current Morris and Helen Belkin Gallery exhibit State of Mind: New California Art Circa 1970. Interviews, reviews, comment and music centred on this cool, eclectic collection.