CiTR Reunion Weekend – On-Air Schedule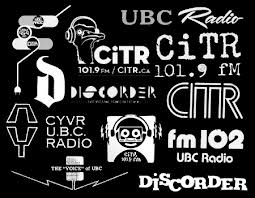 Get on air and relive your radio days! Throughout the weekend, CiTR alumni will be jumping on the airwaves, hosting their show from the past, and telling stories about UBC Radio. Some of it will be planned and some will be free form! Listen in to hear those voices from the past…
FRIDAY:
2 – 3:30pm: Mike Klassen (just playing old stuff from the library)
3:30 – 5pm: Nardwuar – Regular Slot (Leora Kornfeld guest)
5-6pm: News 101
6-7pm: Al Thurgood aka Jerome Broadway re-airing the B.O.M.B.S. Bitter Old Man Broadcasting Show)
7-8pm: Suzanne Tabatta + guest(s)
8-9:30pm: African Rhythms
 9:30-12:30am: Noah Grant (Home Bass returns) + guests
12:30 – ?: Vampires Ball
SATURDAY:
8-Noon: The Saturday Edge – alumni special
Noon-1pm: Lisa Marr, Bill Baker etc – recreation of "The Steve & Eydie Show/Expo 66"
1pm-5pm: Open House, drop-ins on-air with Janis McKenzie, Gord Badanic, Chris Dafoe, Harry Hertscheg…
5-7pm: Pete Lutwyche (Neon Meatdream Revisited – pop, noise, ambient, pretty much everything).
7-9pm: Richard Trimble (aka Raghunatha Dasa) revisits Plutonium Nights
9pm-Midnight: Randophonic (pre-recorded) 
Midnight – Bepi Crespan
SUNDAY:
9-10am: Classical Chaos
10am-11m: ShookShookta
11am-1pm: tobias c. van Veen re-airs NOIZ-RESURRECTION) 
1-3pm: Patrick Onokulu (Afro Beat World)
3-4pm: Blood on the Saddle
4-7pm: Ken Hardie, Dave MacLauchlan, Taylor Ogston
7-10pm: Mark Mushet – Fast Forward returns)
10pm – Transcendance