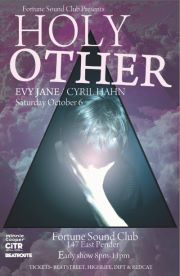 Come celebrate Holy Other's new album Held at Fortune this Saturday at an early show! Working with the same blend of R&B, UK garage and house sounds that influenced the funereal pop sounds of With U, Held is their new offering that again uses the voice in a way that sounds devotional and comforting in one instant, and unknowable and distant in another.
They will be joined by Evy Jane and Cyril Hahn.
Tickets are $12 and are available at Beatstreet, Highlife, Red Cat and Dipt, as well as online. More info here.