Tuesday, June 19, at 11 p.m. CabaRadio will be highlighting past guests, funny moments, wacky times and the overall good times from the past 3+ years.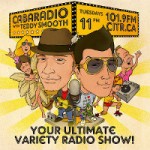 Guest appearances by certain characters, including our theatre guru and correspondent Franklin T. Schneider and the all female sketch comedy troupe The Sketchy Sluts!
We will be giving away prizes and taking phone calls from fans who would like to say goodbye during our last program. 604-822-CiTR is the number to call!
CabaRadio with Teddy Smooth
3rd Best Late-Night Radio DJs (2009, 2010, 2011) Georgia Straight
3rd Best Local Podcast (2011) Georgia Straight
3rd Best Local DJ (2011) Westender
2nd Best Podcast (2011) Westender