Music Waste is is Vancouver's premier independent music festival highlighting the region's most exciting and innovative bands. Running from Thursdsay June 7 (today! hooray!) until Sunday June 10 at venues kept within walking distance, full festival passes at $15 mean that Music Waste is the easiest way for fans to see more local music is one week with little effort! Check out their website for more info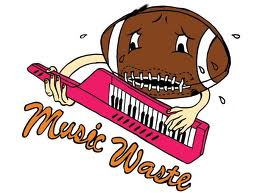 CiTR is proud to be presenting four shows at Music Waste 2012:
June 7- Waldorf (Dirty Spells | White Poppy | Greenback High | Capitol 6 | B-Lines | Velvet Fist | The Godspot | Peace | New Krime | Telefoam | Vincent Parker)
June 8 – Rickshaw (Cloudspitter | Hermetic | The Courtneys | Apollo Ghosts)
June 9 – Biltmore (World Club | Eeek! | Brazilian Money | Slam Dunk)
June 10- Waldorf matinee (Horse Girls | Weed | Twin River | Village | Pleasure Cruise | The Ballantynes)
Access the full schedule here. And don't forget to check out Comedy Waste and Go Your Own Waste, both part of the Music Waste festival!