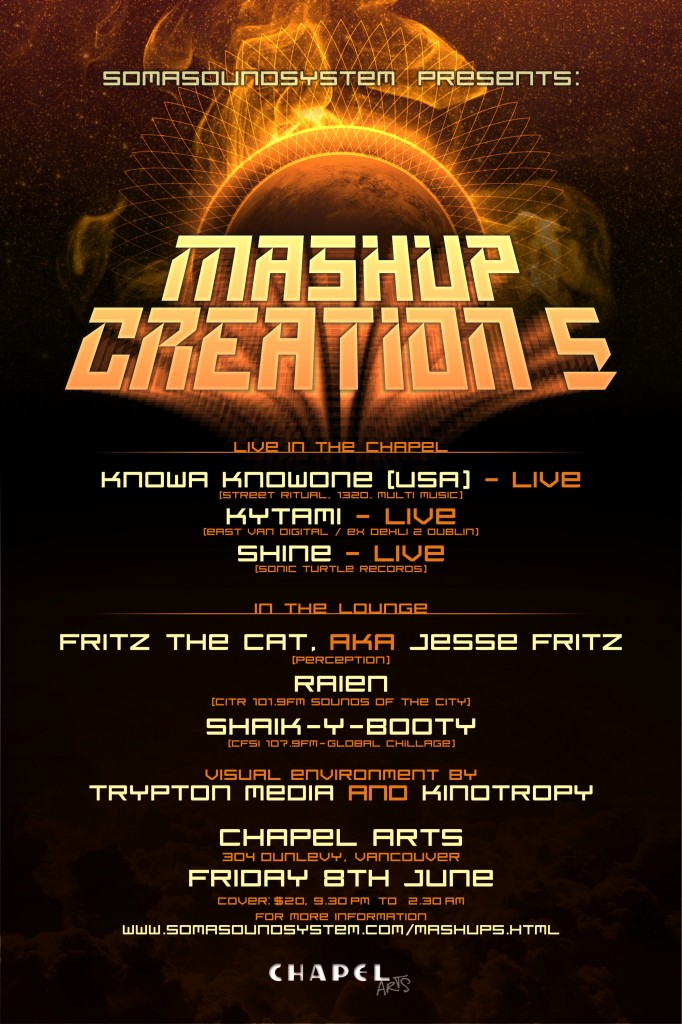 Friday, June 8 @ Chapel Arts (304 Dunlevy Avenue)
Join host of Sounds of the City Raien for a live broadcast of Mashup Creation 5 from 11pm – 2am!
SomaSoundSystem Presents: 3 rooms of creativity, with fully diverse music, live performers, DJ's, VJ's and art market.
Featuring
Knowa Knowone, Kytami and Shine live in the Chapel.
And Fritz The Cat AKA Jesse Fritz, Shaik-Y-Booty and Raien in the lounge!
Visual Environment by Trypton Media & Kinotropy.
Click for
Doors open @ 9.30pm
Cover is $20
For more information and to buy tickets go here
or visit Facebook
Sponsored by CiTR 101.9FM
*****
Live in the Chapel:
Knowa Knowone (USA) -Live
(Street Ritual, 1320, Multi Music)
Kytami – Live
(East Van Digital / ex Dehli 2 Dublin)
Shine – Live
(Sonic Turtle Records)
Live in the Chapel:
Knowa Knowone (USA) -Live
(Street Ritual, 1320, Multi Music)
Kytami – Live
(East Van Digital / ex Dehli 2 Dublin)
Shine – Live
(Sonic Turtle Records)
In the Lounge:
Fritz The Cat AKA Jesse Fritz (Perception)
Raien (CiTR 101.9FM Sounds of The City)
Shaik-Y-Booty (CFSI 107.9FM-Global Chillage)
Visual Environment by Trypton Media & Kinotropy.
*****
KNOWA KNOWONE (Street Ritual, 1320, Multi Music)
(Glitchop Producer)
Knowa Knowone is a Bay Area turntablist/producer and co-owner of the record label Street Ritual. He is considered one of the founders of "Glitch Hop". Fans know Knowa as someone who vibes off of his crowd's energy, directly connecting to his audience, raising them to a euphoric and ecstatic state. His live sets are funky, fun and have every single person on the dancefloor. Hailing from North Carolina, Knowa began his professional career as a DJ, producer and promoter over a decade ago, cutting his teeth at raves and drum and bass events from New York to Miami. His first Hip Hop crew was recognized by The Zulu Nation, and the roots and values of HipHop are still a strong influence on his music.
Knowa Knowone has performed with artists such as Noisia, Freq Nasty, Random Rab, and Mimosa, playing shows around the globe and festivals including Symbiosis Gathering, Burning Man, The Boom Festival (Portugal), and Electric Picnic (Ireland), Shambhala Festival. Knowa was recently featured on the Transnational Dubstep Compilation, released by Generation Bass and Six Degrees Records. Knowa has collaborated with the artists such as Ill.Gates, David Starfire and Souleye. Knowa's release with Sleepyhead as Knowsleep, released in 2008 put Knowa on the map as one of the pioneers for glitch hop and dubstep in the US. Knowa has been releasing music on San Francisco's premiere dubstep and glitch powerhouse label Muti Music for the last three years, and his production has been highly revered. His past releases "Free Energy", "Noble Savage", and "Sound Paintings" have shown his ability to move effortlessly between Dubstep, Glitch Hop, and Experimental Hip Hop. Knowa's music combines traditional midtempo and breakbeat with deep bass, glitchy sounds, ethnic rhythms, and psychedelia to create a sound that stands out as uniquely Knowa Knowone.
KYTAMI (East Van Digital / ex Dehli 2 Dublin)
Kytami is a violinistextremist. Undeniably Canada's most unique, diverse and engaging fiddle player, she is a compelling, skillful and dynamic performer. A trailblazer in her field, Kytami's compositions combine elements of classical and fiddle styles as well as epic soaring lines with heavy bass, elements of hip hop and electronic beats. With her abilities, style and devilish smile, she has won over audiences all over the world. Kytami has played at most major festivals across Canada including many Folk Festivals, Shambhala, Evolve and SunFest. No stranger to the U.S. either, she has appeared at Joshua Tree, Bumbershoot, Harmony, SXSW, High Sierra and Earthdance festivals. In 2010 she traveled overseas to perform at festivals and music conferences in Taiwan, Hong Kong, Berlin and Dubai. Kytami was a founding member of multi-cultural, award winning band Delhi 2 Dublin and co-wrote two original albums, released two remix albums and toured extensively with them from 2006-10. She has also appeared on albums released by The Swollen Members and Sweatshop Union.This year Kytami dropped her own self-titled album, written, recorded and produced in Toronto over the spring and summer of 2011.
SHINE (Sonic Turtle)
Renowned Australian didjeridu master Shine and World music artist, has been performing, teaching and offering sound healing for close to 20 years, He has performed at numerous international festivals to thousands of people and shared the stage with many well known artists, including Mickey hart, Jai Uttal, Michael Franti, Rhiannon, Armando Peraza, Gaudi, Adham Shaikh, Ganga Giri, the Gyoto Tibetan Monks and Yunchen Lhamo & Mihirangi.Shine was initiated into didjeridu healing by an Indigenous Aboriginal elder in 1991. He offered sound healing at Hollyhock retreat center for 10 years. A number of leading experts in the field of spiritual healing, including Deepak Chopra, Eckhart Tolle, Ram Das, and Dr Andrew Weil have all experienced Shine's work, Shine's world beat rhythms , percussion and unique vocal stylings, combined with timeless messages of indigenous wisdom, takes listeners on ecstatic dreamtime journeys into self discovery and inner transformation.Shine has been collaborating with Adham Shaikh and due to release an album on Sonic Turtle Records.
Fritz The Cat
AKA Jesse Fritz is one of the co-founders of Perception Events. As an event artist, Jesse has booked numerous, international and up and coming performers from all over the world. Constantly keeping his ear to the ground for the next dope sound, it is his intent to bring these sounds to Vancouver.
Jesse has always told himself that he belongs on the dance floor or behind the scenes of dance culture. But aside from producing events, and always being the last to leave the floor, Jesse has had an addiction to searching out dope new sounds. After building up a collection, he feel it's only right to share this music with those who might not ever hear otherwise.
You can expect to hear music you've probably never heard before everytime Fritz steps up to the decks. Never limiting himself to a specific genre, Fritz finds the good in all genre's of dance music. As an event programmer he tailors his sets based on set time, the vibe of the show, and who he is playing before and after.