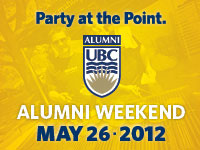 May 26
We love our university home and that's why CiTR is proud to be a part of UBC's 2012 Alumni Weekend. In addition to a ton of other fun activities that are part of the celebration, UBC alumni will be able to come by the station for a tour, register for our "Learn to be a DJ" workshop and even have a chance to featured live on air!
CiTR Radio Station Tours
30 minutes Drop in Tours from: 1:00 – 4:00 Pm
Learn more about the campus radio station before jumping on the airwaves
and spinning some tunes.
CiTR Learn to DJ Workshop 
2:00 – 4:00 Pm
Drop the beat and learn to DJ. You'll leave with some "mad" DJ skills, including
mixing and beatmatching using turntables and software
For all the details, and a full schedule of the Alumni Weekemd, click here.
Sponsored by CiTR 101.9FM